UP 6936 Through Fresno on Oct 22 2000

On Sunday October 22 the Union Pacific Egineering Special
led by Centennial unit 6936 rolled through Fresno on it's way
down the SJ valley from the Bay Area. I waited about 2 hours
for it at Calwa Crossing where a few railfans had gathered.
After not seeing it I proceeded North to the UP Fresno yard.
While getting off the freeway at Clinton ave. the special sped
by heading south. We followed it down Golden State Blvd. and
caught up with it at Church Ave. I got some great pacing footage
South of Calwa as it rolled at about 55 mph. Just north of Clovis
Ave. The train set off a hotbox detector and came to a stop about
a 1/4 mile south of the Clovis ave. overpass. An axle on one of the
passenger cars was inspected. This brief stop allowed for some
great videoing. About 8 minutes ;ater the axle was checked and the
train proceeded south. The train got up to about 70 mph and we could
not keep up with it so we got on highway 99 and finally caught up
to it between Kingsburg and Goshen. We got off in Goshen and I filmed
it rolling by. We then got a bite to eat in Kingsburg and headed home.
The train looked very sharp and was nice and clean.

Here are some photos: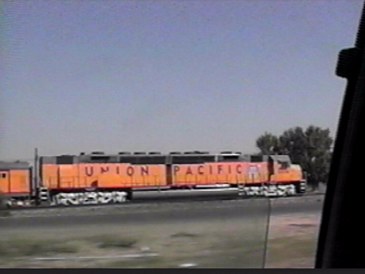 The 6936 accelerates south of Calwa as we pace alongside
of it on Golen State blvd.




After setting off a hot box the 6936 idles south of Clovis Ave.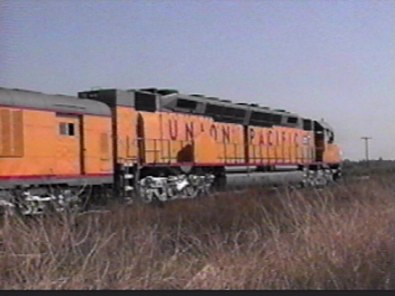 About 8 minutes after stopping the 6936 gets going the
axle was checked at nothing was found.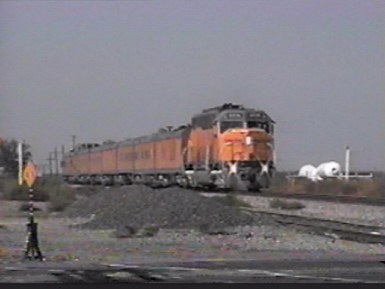 The 6936 approaches a grade crossing in Goshen.