Here are some photos of trains in and around the Fresno Metropolitan area.

BNSF CALWA YARD-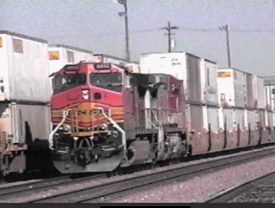 C44-9W leads stack train through yard
on its way to Clovis, New Mexico.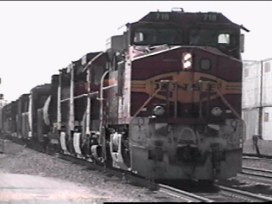 Red & Silver Dash 9 brings a manifest
by the yard office on it's trip between
Barstow and Richmond.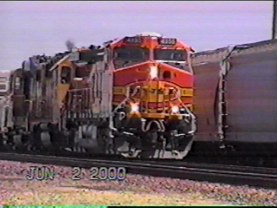 An H2 Dash 9 leads a set of older ATSF power
through the yard.

FIGARDEN SIDING- Action at a busy BNSF siding in Northwest Fresno.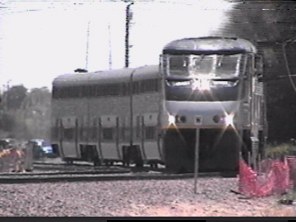 Amtrak California F59PHI brings its train
through figarden at speed.


BNSF 4475 leads this Barstow-bound
manifest through Figarden at 40 MPH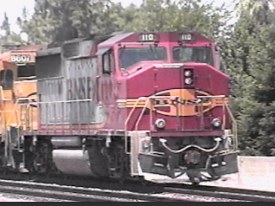 GP 60M number 110 with a baretable
train takes the siding at Figarden.


Heritage 2 Dash 9 roars past with the hot
Z-WSPNBY in tow.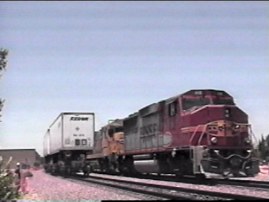 Tail end of the Z Train clears the head
end of the baretable.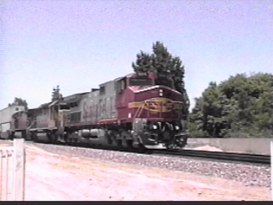 Dash 9, in full santa fe paint rumbles by
with a chicago bound stack train.

CALWA CROSSING-Busy South Fresno Crossing of BNSF and UP mainlines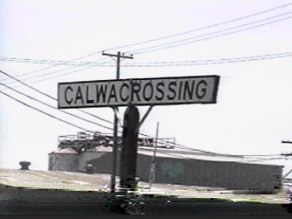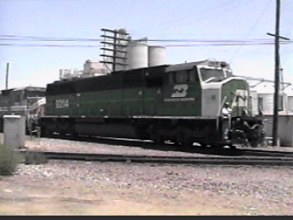 BN SD 60M is about to cross over the UP
mainline. This unit and the LMX GE unit are
about to connect to an outbound train.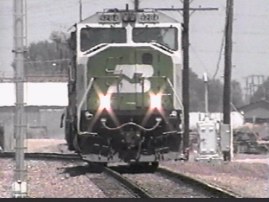 Same locomotives back into the yard, heading west.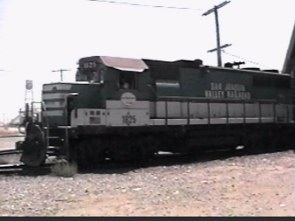 SJVR 1825 pulls a cut of cars across the
UP tracks.




A UP manifest train rolls by the BNSF intermodal
ramp heading south.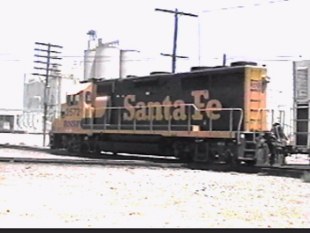 Santa Fe Geep pushes out of Calwa yard
to switch the near by industrial zone.




A UP EMD unit leads an eastbound manifest into
the Calwa diamonds.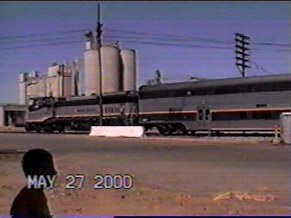 Westbound Amtrak enters Calwa Yard as
a young railfan looks on.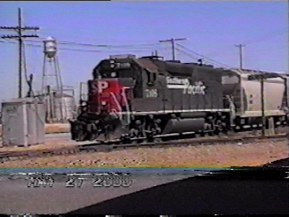 Tulare local crosses the BNSF with one SP geep
on the point.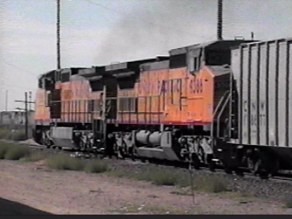 UP manifest finally gets going after setting
off a detector south of Calwa Crossing.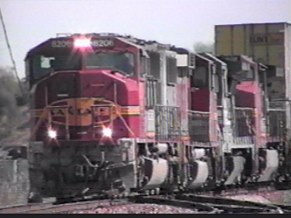 SD 75M leads a stack train into the Calwa
yard, where it will change crews and continue
on it's way to Richmond.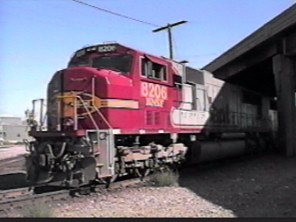 Same train emerges from the Golden State
blvd overpass at 10 MPH.

SUNMAID- Here the BNSF double track line between
the Amtrak station and Calwa yard crosses an SJVR branch.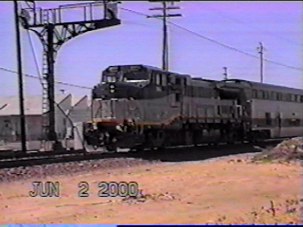 Amtrak rolls under signals as it approaches Church
Avenue.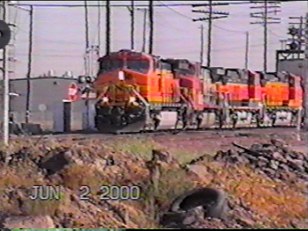 BNSF orange shines in the morning sun as
4 C44-9W's pull stack train through sunmaid.

AMTRAK DEPOT- BNSF and Amtak at the old
ATSF depot on Tulare street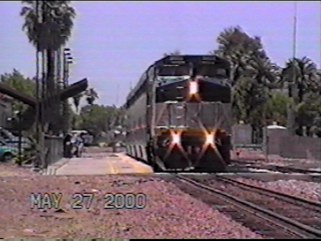 Amtrak San Joaquin glides in for it's station
stop in Fresno.


More pics coming soon including more from Amtrak depot,
and Union Pacific Fresno Yard.